Auction
DUVEEN & EDWARDS specializes in liquidating entire estates as well as collections of antiques and art — personal or corporate — domestically and internationally.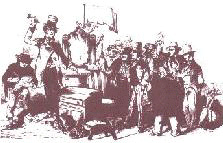 We provide an e-mail distribution to an extensive list of collectors, dealers, designers, decorators and retail customers. The direct e-mail includes a brief description of the estate contents and the date, location and time of the sale. To join our list or for a free consultation, please fill in our information form.
Depending upon the valuation of the items being sold, we may hold an auction at our own facility, at a well-known local hotel or on-site. Single items or small lots, of sufficient value, are also accepted for sale.
Estate Sales are held on the premises with all items individually tagged, priced and attractively displayed. Extensive local, and national or international (when warranted) advertising is done along with a direct mail campaign. We offer both public and private sales. Services are tailored to meet the needs of the client. We arrange the pickup of the remnants to donate to charity, and supervise the clearing of the house for conveyance. Our service is confidential, professional and sensitive to the customer or family members. All sales are offered on a straight commission basis, with no hidden costs.